3 Signs of Healthy Recurring Revenue Pipeline
Constructing a compelling story around the health of your sales pipeline happens on many levels – a 10,000 foot view on the entire sales engine, a 5,000 foot view at new bookings and a still deeper look at sales rep performance. Visibility on these levels gives your management team levers to increase your deal size, improve your win rate or shorten your sales cycle. If you're in the areas of sales operations or sales performance management, this post is for you!
1. Increase your deal size
As your product or service becomes more mature and featureful, it is only natural to increase average selling prices. Most companies take too long to increase prices – everybody including the gold standard Salesforce starts out serving small customers before moving upmarket. Moving upmarket is usually the only way to grow your revenue from new sales.
Your first big deal might be an anomaly, but as you get more traction, you'll start to see bigger deals with increasing frequency.
At your next Quarterly Business Review, somebody on your team will present a table like this:

The above table is a start, but it can be difficult to truly get a feel for the data. You might have questions around:
how much did we sell last quarter?
how did Eve perform last quarter?
how many 50K+ deals have we had and who closed them?
…and so on…

The biggest benefit to visualizing your sales data is a single chart can communicate:
quick understanding of each sales rep's contribution
what kind of deal sizes each rep closing
what deal size is each rep having the most success with
…and so on…
2. Improve your win rates
You've put significant time and money into acquiring leads and converting them to opportunities. Your team is pretty confident that they will be able to close the deal. But sometimes, weeks go before any sort of communication between the sales rep and the prospect. Timing is make or break when it comes to sales. If you lose track of a prospect when their buying temperature and need for your product is high, you are more likely to lose the deal to a competitor who is giving them the time and attention they need.
By closely monitoring win-loss ratios, you have an "early warning" system to let sales reps and their managers know that a deal is slipping. In this chart, you face a bandwidth/hiring problem where you have too many deals per rep and not enough time devoted to each deal.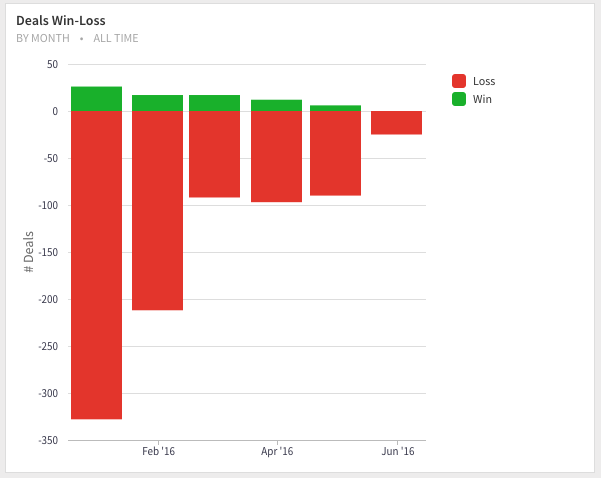 3. Shorten your sales cycle
Getting to know the number of days a deal is in the sales cycle is key is managing your growth rate – charting this metric over time would look something like the below: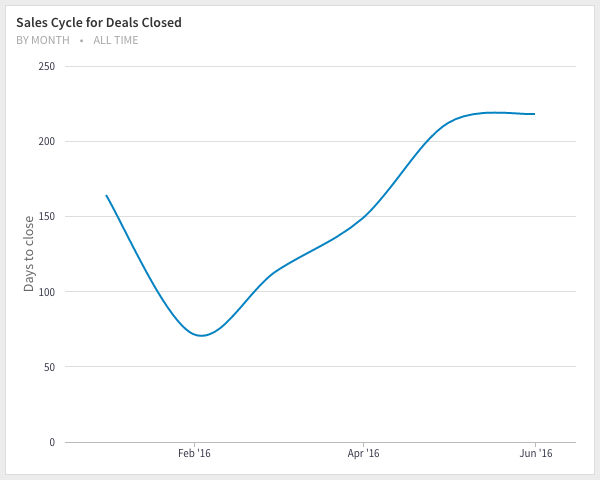 Great! Now you might have further questions like:
how are the sales cycles different among reps?
and among deal sizes?
what's causing our sales cycles to go up? More competition in market?
For the deals that have a shorter sales cycle, are your reps getting more stakeholders involved early in the process? Are they doing a better job qualifying if your solution is within the prospect's strategic objectives (as opposed to a "nice to have.")
Conclusion
To maintain a healthy sales pipeline, you must have a top down view of everything in your organization. We've written about the importance of deal sizes, win rates and sales cycles in determining your sales velocity and forecasting for the future. To take it a step further, you'll need the ability to drill down by sales rep, sales territory or deal size to make it actionable and put improvement programs on your process in place.
Photo Credits: Unsplash